[A survivorship bias case study]
Let me set the scene: I was working away preparing our group workouts for September (and flicking through fitness forums and social media channels at the same time, as you do) when I came across a pretty darn impressive before and after photo. It immediately piqued my interest, and I just had to take a closer look.
Judging by the likes, comments and shares, the before and after picture was a hit. People loved James'* dramatic change – from pale and pudgy office worker to ripped gym god. He'd worked hard, trained hard, and transformed into a fit, healthy person – with a spray-can tan to match.
The gym responsible for his incredible makeover specialized in optimal performance, weight loss and rapid results, posting before-and-after pics like James' all the time. To their followers, it was a done deal. Guy was fat, guy got fit, gym is good… take my money!
But when it appeared in my feed, I almost keeled over. James' 12-week transformation had come at a cost - a bad case of scoliosis.
What really happened in that 12 week window?
Whereas the before photo showed a man with OK alignment, just a little soft around the edges, the after shot showed a man with a spinal defect. The culprit? Bad training.
I could see that James' spine had become incorrectly curved, pushing his head and shoulders forward and – presumably – changing his breathing pattern. From the back, his shoulders had settled at uneven heights, highlighting muscle imbalances that had, after 12 weeks of incorrect training, really taken hold.
James hadn't been assessed. James was now wonky.
Assessment + personalisation: monumentally important
Most people come with a set of misalignments from desk jobs, previous injuries, poor breathing patterns, handbags, high heels, hunching over phones and general stress. It's our job as fitness professionals to spot these imbalances and remedy them, building stronger, more resilient bodies from the foundations up.
It's never to prescribe a training program without assessing first.
It's never to create lifelong problems by training on top of poor posture.
It's never to create "unhealthy fit people".
Once established, these habits and misalignments take years to undo – and have serious consequences.
The consequences of misaligned training
When you train out of balance, you end up with overworked and underworked muscles, tight ones and slack ones, bendy spines and back problems, injuries and degeneration. It's a recipe for injury and chronic health problems. You embed bad technique into an already dysfunctional body. And for what? A few inches off the waistline? A one-season-only summer bod?
For James, we predict that he'll need about two years of corrective exercise training to undo the damage done in 12 weeks.
That's why we make a big deal about assessing first, about bringing the body back into balance, about small, calculated acts of consistency – not rapid-result boot-camps.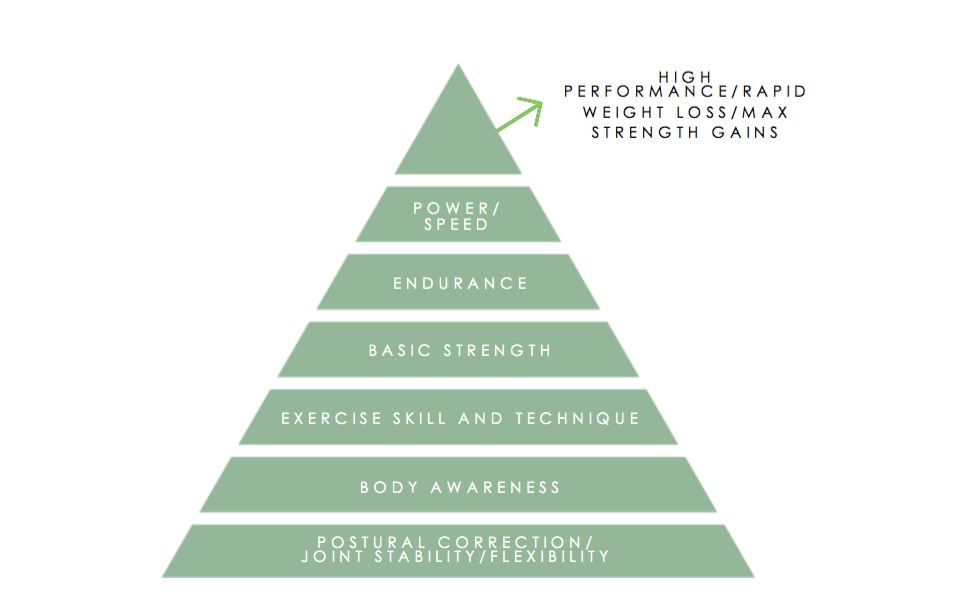 Survivorship bias side tangent
Dramatic before + after photos like this one show survivorship bias in action - a phenomenon we discussed earlier in the month - where our fallible human brains (bless their cotton socks) tends to elevate the 'survivors' and omit the 'failures', increasing our expectations, belief in a program or feelings of frustration and comparison. Have a read of our post to really get a feel for how fitness and health marketing manipulates our expectations and emotions - causing some serious errors in judgement when it comes to how you train.
Here's what you won't see at Enliven
You'll never see radical 12-week transformation pictures or rippling orange bodies on our facebook feed. We'll always be about the slower, far less sexy, but ultimately sustainable path to health and fitness.
So, don't be like James. Train smart. Building a strong foundation that allows you to not only look great, but feel great - and not for one season, but for life. *we changed the name and won't be posting the photo, for the sake of being nice people ; )
---
Loved this article? Keen to learn more about the Enliven approach?
Reach out to us for a free 20 minute fitness strategy session. It's an easy (and enlightening) way to get clear on your goals, hear our health and fitness recommendations and see if we're a fit.
Feeling tech savvy? Book your free consult in seconds by clicking here.
To your health,
Michael Wilson
Director
Senior Exercise Practitioner
Holistic Health & Nutritional Coach
Manual Therapist
Functional Movement Specialist
Rehab Trainer
Posture Trainer
Personal Trainer